Bloom Where You're Planted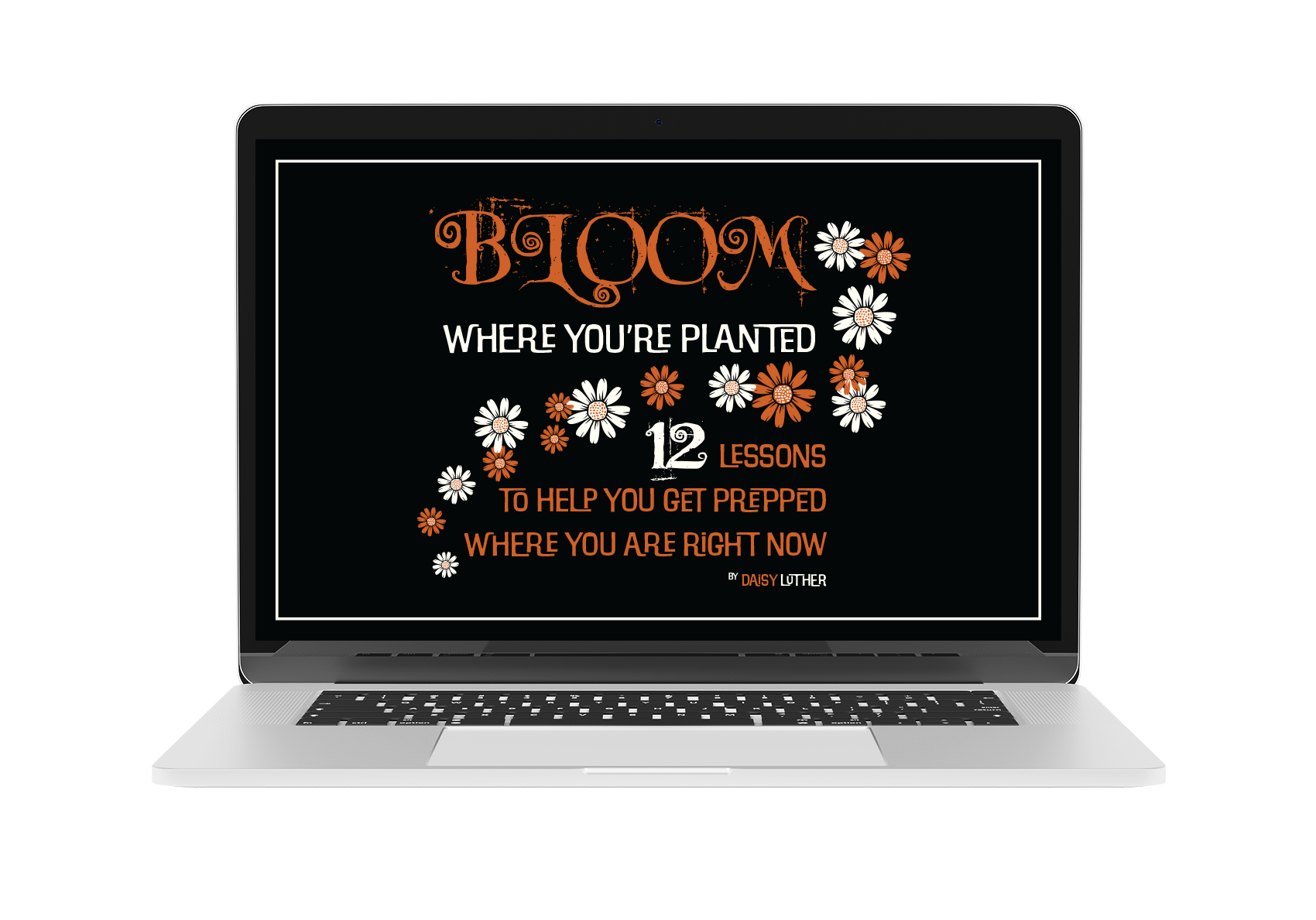 No matter what your situation is, you still want to get prepped, right? That's why you got this course!
But you may have gotten a lot of negative feedback from people who think that a family can only be prepped if they live on a self-reliant homestead at the dead center of a mountaintop, far away from civilization.
While the idea of it is great, in the real world, that just isn't feasible for a lot of families. Most of us cannot quit our jobs, yank our children out of school, and hasten off to the boonies. We have jobs, elderly family members, kids we don't want to uproot, and houses we may not be able to sell immediately without losing a ton of money.
All that doesn't mean you can't be prepared
You just have to have a viable plan.
Now, it would be nice if I could create a plan that would work for everybody, but unfortunately, that's impossible. We all have so many different variables, like our family members, our local resources, and our budgets.
In this course, we're going to discuss all of these variables and you are going to create a plan unique to your situation.
While that might sound overwhelming, don't worry. I'll be with you every step of the way!
How to use the worksheets
You have several options for using the worksheets that come with each lesson.
The worksheets are interactive. Type in them right on your computer. Go back and update them as your situation changes.
Print it out and write all over it – you can do this as many times as you like with a PDF
Put your answers in a word document on your computer
Write your answers in a notebook
Go as high tech or as low tech as you want.
I strongly suggest that you print out or write down the plan worksheets and checklists so that you have a copy when emergency strikes.  There are also links for downloading just the printables you'd like to have.
If you don't have a printer at home, you can hand write the things you find important in a notebook, or you can use the self-serve option at your local Staples of Office Max and print them off.
Are you ready to get started?
At first, this might seem like a brutal wake-up call. It will shock you when you think about the things you haven't yet done or considered.
But that's exactly why I put this workbook together. Only by knowing our vulnerabilities can we set up a workable survival plan. Use this book to identify your weak points and add supplies as you can.
And when the next emergency strikes, you'll be ready for it.